Smart Schedules
World Security's Smart Schedules™ powered by Alarm.com let you set up customized schedules and personalized rules to manage your lights and thermostats. Intelligent design and simple-to-use mobile apps make it easy to set up, and help you to stop wasting energy and save money.
Personalize your schedule
With World Security, you can define automatic schedules for your lights and thermostats that are completely personalized. You can adjust the home temperature and lights based on the time of day and day of week. These convenient settings can make it appear that you're home while you're away, or ensure that you walk into a well-lit house when you come home at night.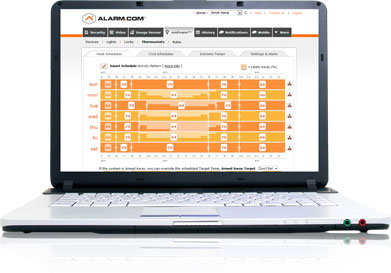 World Security is an intelligent security solution that thinks for itself
Schedule the bedroom and living room lights to turn on at 6:15 a.m. on weekdays when you wake up, and then turn off at 8:00 a.m. right after you leave for work
Automate the lights to turn on and stay on for 30 minutes if a security alarm is triggered
Have the front hallway light turn on when you disarm the security system
Automatically turn down your office air-conditioning after the last employee leaves for the night
Turn up the heat an hour before the kids get home from school
Customize your World Security schedule
Everyday Energy Saving
Setup an World Security energy saving schedule for while you are at work

Vacation and Travel Schedules
Setup a World Security schedule to save energy and make it look like you are still home while you're traveling:

Monday – Friday:

8:00 a.m. – Thermostat adjusts to energy-saving mode
8:15 a.m. – Coffee maker turns off
8:30 a.m. – All lights turn off
6:00 p.m. – Thermostat readjusts to comfortable level
Sunset – Porch and hall lights come on
11:00 p.m. – Porch and hall lights turn off

While you are away:

Thermostat set to energy-saving temperature
7:00 a.m. – All lights turn off
6:00 p.m. – 10:00 p.m. – Porch light and hall light on
7:00 p.m. – 10:30 p.m. – Kitchen light on
8:00 p.m. – 11:00 p.m. – Living room light on
9:00 p.m. – 11:00 p.m. – Bedroom light on