World Security Home Access
World Security gives you convenient access to your home whether you're five minutes away or in a whole other part of the country. All World Security products are smartphone enabled to open your home and garage doors from wherever you are. You can also integrate your locks and doors with smart schedules to open for you at a set time each day.
Use your smart device to unlock doors for friends, family members or a maintenance worker while you're at the office or away on a trip.
Open a door for your child if they're locked out
Open the garage door so that a neighbor can borrow a ladder
Feel secure knowing that your home is automated with a Xone of comfort and security
World Security makes it easier than ever to control your home's settings with intelligent automation of your lights, locks, window treatments, thermostats, garage doors and even small appliances.
Garage Doors
World Security puts the power of your home in the palm of your hand by utilizing the latest smartphone technology. Use your handheld device to open your garage door for repair workers or family members who forgot their keys. The application alerts you when a door is open, and also allow you to close the door remotely. Whether you're in your driveway or halfway around the world, World Security gives you the ability to open and close your garage door, making your home the smartest one on the block.
Click here to find out more
.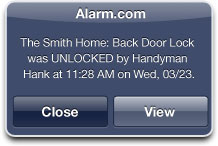 Automated Locks
World Security offers solutions to never worrying about being locked out of the house again by having remote access and control of your door lock. A key under the door mat is 1980′s, now you can give out unique codes to whoever needs access or simply unlock the door right from your Smartphone anytime, wow now that is automation.
Click here to find out more
.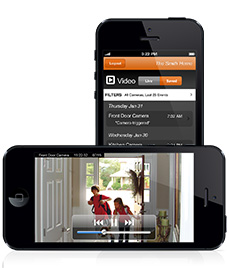 Recorded Video Access
World Security recorded video access allows you to see recorded video clips on your computer or mobile device. Save, share and enjoy the flexibility of knowing you have a Xone of Protection recording and keeping your family secure.
Click here to find out more
.
Indoor Video Access
World Security's Video Monitoring solution lets you see what's going on at your property, even when you're not there. Now, you can see who's pulling in the driveway, get a video alert when someone comes through the front door or just check in to see how your favorite pet is doing.
Click here to find out more
.